Family traditions help remind everyone of the good times and connects everyone together.
This particular week I had all 7 of our children together, it had been a year since we were all together. I miss them being young at home. I miss the pitter patter of little feet and I miss the handprints on the walls and head counting making sure all 7 were in the car. I only left 1 home once. Was he upset? No, my 3-year-old Chandler said, "You are not supposed to leave me alone." I treasure the time we are all together and I treasure each day with my children. I wanted to do something special with everyone together. In China, Angela doesn't get to celebrate our holidays or traditions. So, the Time Traveling Holiday or the FAKE Holiday was born. We decided to celebrate all the holidays and special occasions and traditions in 1 long, outrageously fun day, including family pictures. It was a blast.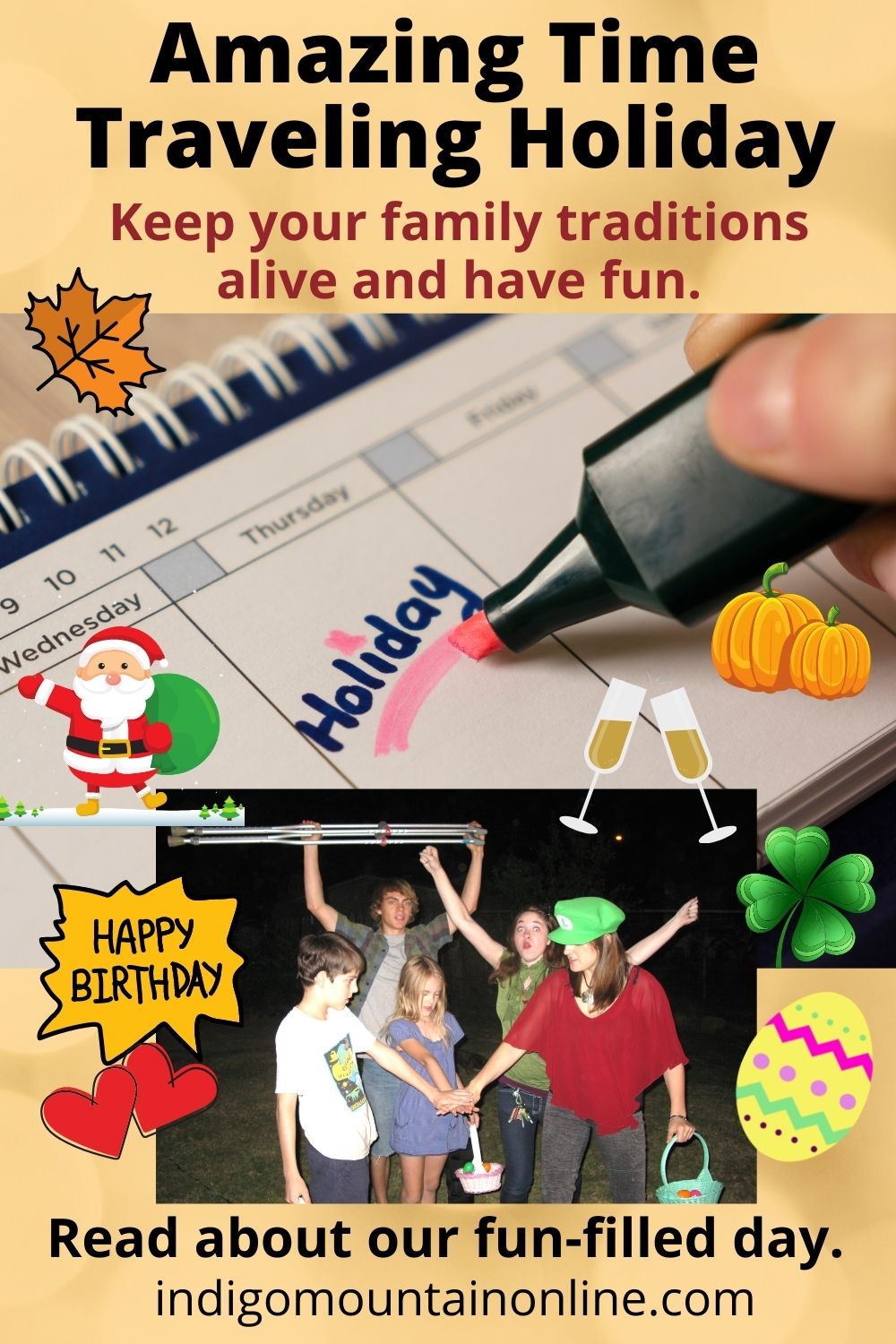 We started the morning with Christmas
I had Christmas music playing, a Christmas stocking full of goodies and Christmas presents for Angela (she didn't get hers on Christmas since she was in China). I put Santa hats on everyone and we served our traditional breakfast that we call 'Efros Eggs'. We've been serving this since the day Mark and I got married 34 years ago on Christmas morning. You scramble eggs, chop summer sausage, and add some cream cheese chunks, top with salt and pepper and you're good.
Don't forget to get your scents going, they help bring back memories. I used Season's Greeting essential oil blend.
One of our family traditions on New Year's Eve is to open up a couple bottles of Martinelli's sparkling cider and toast the new year. So right after Christmas breakfast – we got out our special Italian glass goblets and stared pouring. Unfortunately, I broke one. I kept the broken piece to remind me of the day and the love of my family. It didn't seem right to just throw it away.
Later in the morning, I had a Valentine for everyone with a chocolate Kiss attached. I played some fun love songs. At this point, some of them started catching on. No one was made aware of the days plans.
We always celebrate St. Patrick's Day. We have ancestors from Ireland and I love it. Lunch was Reuben Sandwiches with corned beef and sauerkraut. Sauerkraut is another extended family tradition, I grew up eating sauerkraut for Thanksgiving to help with digestion. Mark and I wore silly Irish hats and I was playing Irish music. Everyone got a lucky green 4 leaf clover sticker.
On to Easter. So, we hid plastic Easter eggs filled with candy all over the yard. I made them all go on an Easter Egg Hunt. It was fun.
Moving on through the year – time to celebrate Angela's birthday that we missed celebrating while she was in China. So I made her favorite ice cream cake, added candles and she got more presents and birthday songs.
Okay so now everyone had caught on – or so they thought. While dinner cooked, Mark and I snuck outside to decorate the porch for Halloween. I set up a fog machine and we put on costumes. We rang the doorbell and when they opened the door, the fog filled the living room and they busted a gut laughing – they had not expected this. Trick or Treat!
Finally, dinner was ready – a Thanksgiving feast. Each year we share what we are thankful for. It was beautiful and touching and a great opportunity for family memories and sharing. Sometimes I think we can get so busy we forget the express appreciation for those in our family. We have a lot to be thankful for. Dinner was mostly traditional for us: starting with bacon wrapped water chestnuts, olives and sweet pickles followed up with a turkey, some amazing, mashed potatoes with herbs from the garden, gravy, sliced roasted sweet potatoes, fresh green beans from the garden, stuffing with fresh herbs and onions from the garden, and homemade cranberry relish. Dessert was a home cooked pumpkin pie. I was grateful for the harvest of the garden.
Since you can't go to bed on a full stomach, we broke out the Monopoly game. The kids seem to have the idea that I always win. Apparently, Trevor had been practicing Monopoly so he could beat me and he did. It wouldn't be a full day for us if we didn't bring out one or more instruments and jam.
We even squeezed in time for family pictures. So many memories new and old and they keep us together and connected. Family memories and traditions help keep families connected. We took lots of pictures and I'll turn it into a special scrap book for them.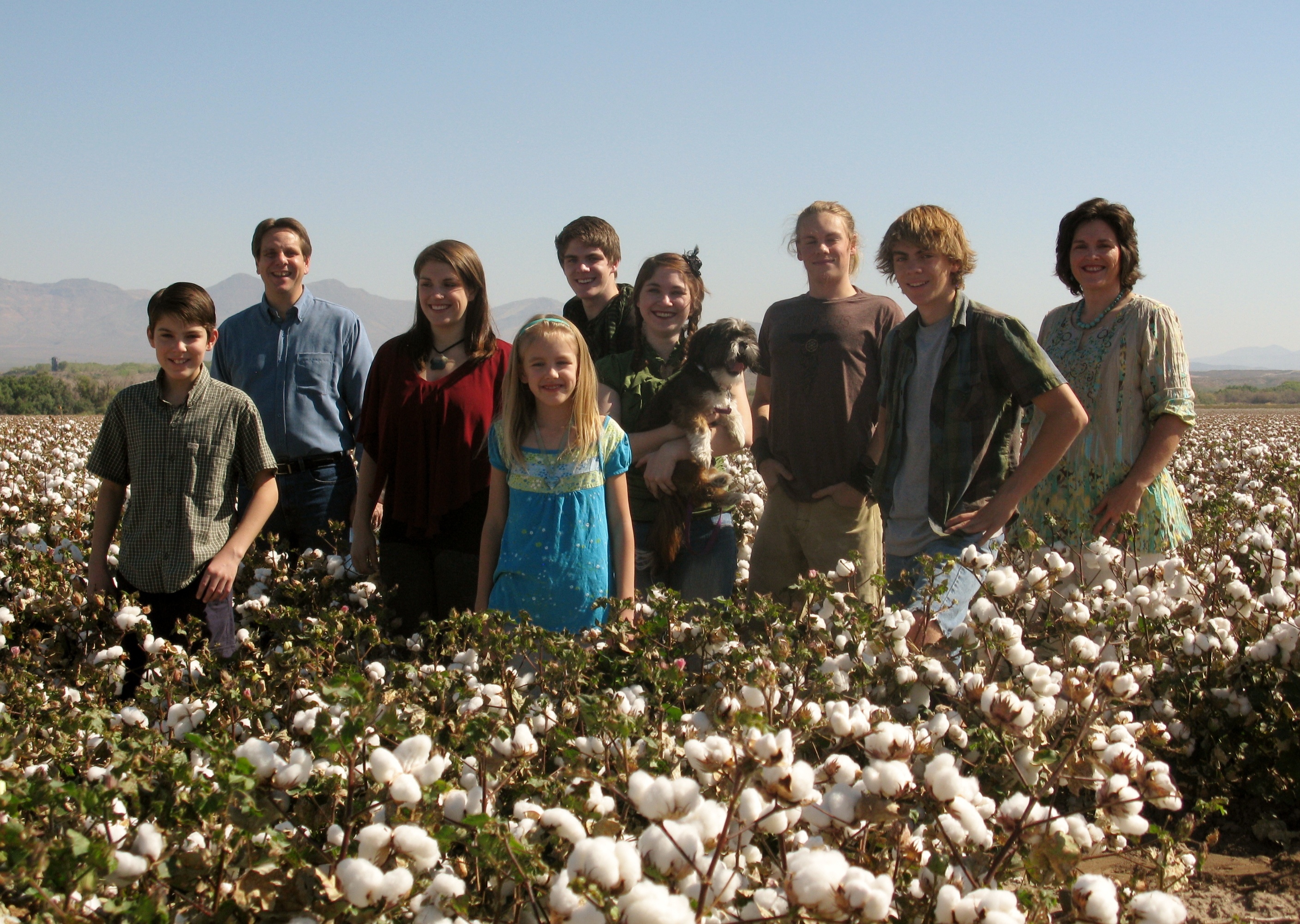 During the pandemic, I heard of families that got very creative to spend time together including playing Bingo over Zoom. Make lots of happy memories – whether your family is 1 person or lots more – make traditions for yourself and your family.
What are your favorite family traditions? How did you keep some of your traditions and family time during the pandemic?
Kally and Mark
Parents of the crazy bunch of 7 and growing