Simple Healthy Mustard Sauce
I love cooking and eating well. I really love simple, fast and super delicious. I like variety. I have sauces and condiments that fill my fridge. Many I find in cute little markets, local artisan chefs and sometimes I make my own creations. The right topping can turn a piece of fish or chicken into a whole new taste for a meal or make cauliflower stand out in exciting ways. Check out this delicious healthy sauce recipe below. Learn more about me (Kally).
Once in a while while experimenting – it is a total failure. I once had to throw and entire meal out and start over. But this easy delicious sauce was so good, I had to write my recipe down for posterity and share with you. My kids get after me all the time to write down my creations.
For me, cooking is an art form. I go in the kitchen and let the food talk to me. I know! My kids think I'm weird. But my kitchen talks to me and my spices talk to me. My husband is great at finding recipes and turning them into a delicious meal and work of art. Me, I let my cooking classes and cooking textbooks be the root of inspiration.
For a delicious, spicy mustard sauce, I was looking for a way to add new life to chicken. It hit a home run for me. What is great about this sauce is this is just enough for 1 person or easily multiplied to feed more. It whips up in seconds. There is no fat in this recipe and no sugar. Did you know mustard could be a healthy food? It is. If you're on The Evolution Weight Management Program – this recipe works for phase 2 of that program.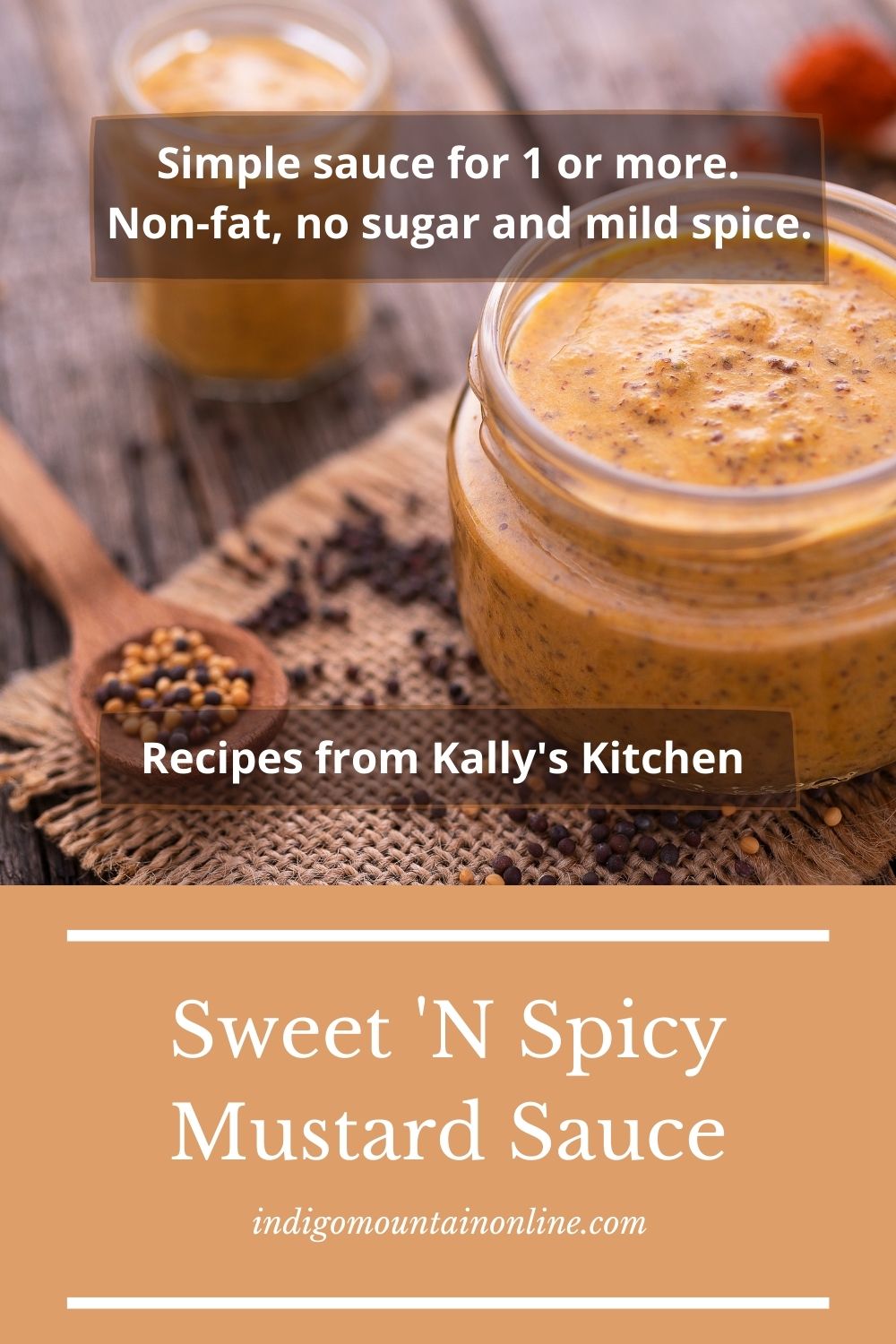 For my meal, I mixed up the sauce and let my chopped chicken sit in the sauce for about 30 minutes. Then in 1 pan (I love 1 pan meals), I added chopped cauliflower and let it start cooking for about 5 minutes. Then I added all the chicken and sauce and cooked until the chicken and cauliflower were done. A simple fast meal and so good. A good sauces can keep variety in your meals. Try this easy healthy sauce recipe and let me know what you think!
Print Recipe
This is a great sauce for chicken, cauliflower (or both together), fish, rice, quinoa, or even millet. Ingredients are for 1 person. And it works well for DesBio Evolution hCG meals. It is soo good and not too hot.
Source: Kally Efros, Indigo Mountain
Course: Condiments, Dressings, & Sauces
Prep Time: 2 min
Total Time: 2 min
Ingredients
1 1⁄2 teaspoon Spicy Brown Mustard no sugar

1 teaspoon

Lemon Juice
1⁄4 cup Chicken Broth no sugar

1

teaspoon Bragg's Liquid Aminos about
1⁄3 teaspoon garlic powder
1⁄8 teaspoon chipotle chili powder or more or less

6-10

drops stevia extract or another sweetener
Directions
Add all ingredients to a small bowl and mix. Taste if you want more spice or sweetener. You can always add less and work your way up.
It is now ready to top cooked food or cook on your food. Make sure when cooking you have a tight fitting lid for your pan like Salad Master OR you will need to add more broth or water as it will evaporate while cooking.
For my meal I added chopped cauliflower and bite sized pieces of boneless skinless chicken breast to a pan, poured the sauce over and coat. Then cook on medium until sizzling, then turn down to low and cook until your food is done.
You can even marinate your fish or chicken in the sauce and then cook it.